RFI COL806 8dBi Industrial Class Collinear 900/915MHz Antenna - Broadcast/base station quality - Ideal base station for 900MHz ISM - Integrated N Female connector - Full brass radiator design - 100% Australian made. This is the ideal antenna for broadcast, remote telemetry and mobile/semi-mobile machinery. Outside of base station broadcast, COL806 antennas are almost exclusively deployed in mining and other heavy industrial applications due to their extremely heavy duty design. Unlike some base station antennas which have lossy coaxial cable, this antenna has an integrated N Female connector in it's base, allowing for direct attachment of low loss feeder/riser cables. Designed specifically for mast mounting, the antenna's ultra heavy duty mounting tube can be mounted using two parallel UC-1 clamps (not supplied). The COL806 Series are high gain base station collinear antennas built to the highest specifications. These antennas were engineered to minimise intermodulation and utilise a superior matching technique, integrating the coaxial connector directly into a precision brass feedline section. Better control in the feedline section delivers higher efficiencies and superior bandwidth. The gain is stable and predictable with well defined major lobes across the entire band. As tilt in vertical collinears varies with frequency, the COL806 patterns are controlled to deliver defined tilt and gain over their rated bandwidths. The COL806 series are built with white, super thick walled radomes and heavy duty alodined aluminium mounting tubes. Strong power ratings make these collinears well suited to single or combined Tx applications.
| | | |
| --- | --- | --- |
| Optus Regional 3G (900MHz)* *Please check Optus Coverage Map | | 11dBi |
| Vodafone Regional 3G (900MHz)* *Please check Vodafone Coverage Map. | | 11dBi |
| All carriers - calls & text (900MHz) | | 11dBi |
| 915MHz ISM Band | | 11dBi |
| All other networks | | - |
Electrical Specifications
Frequency Range: 890-960MHz Input Impedance: 50Ω VSWR: <1.5:1 (14dB RL) Polarisation: Vertical Radiation: Omnidirectional Vertical Beamwidth: 16° Maximum Power: 500Watts
Mechanical/Environmental Specifications
Construction: Ruggedised white fibreglass radome, brass radiating elements, aluminium mounting tube Cable: none Connector: Integrated N Female connector Length: 1700mm Weight: 3.8kg
Read More
What connection does this antenna have?
This antenna has an integrated N Female connector at the base of the mounting tube. There is no cable supplied.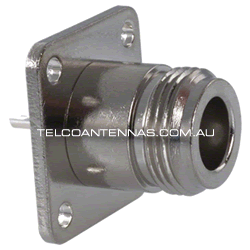 N Female Connector
(COL806-94)
| | |
| --- | --- |
| SKU | COL806-94 |
| Shipping Weight | 0.0450kg |
| Shipping Width | 0.080m |
| Shipping Height | 0.080m |
| Shipping Length | 0.600m |