Smoothtalker Apple iPhone 5 Antenna Cradle - Cigarette Lighter Mount - 12V/24V Charger - FME Antenna Connector - Hole for headphone jack access - Not for Iphone 5C or S, we suggest a universal cradle for 5C/S Please note that this cradle has been tailored for overseas USA/Canadian networks. For improving iPhone 5 signal on Australian networks we strongly recommend the Bury System 9 Cradle and base plate. Since the release of iOS7 software last week users of SmoothTalker cradles and iPhone 5 products have a message that states "This cable or accessory is not certified and may not work reliably with this iPhone" The operator can hit dismiss and the message goes away and the cradles function correctly, even if the operator does not hit dismiss the cradle will work as intended to.
iPhone 5 Cradle
When the best in mobile coverage is required choose a Smoothtalker cradle. Craftsmanship and attention to detail have made these superior cradles amazing in coverage performance. Each cradle's internal engineering has ensured maximum signal return for each handset. These cradles are specifically engineered so that the receiver in the cradle matches the antenna position on each handset.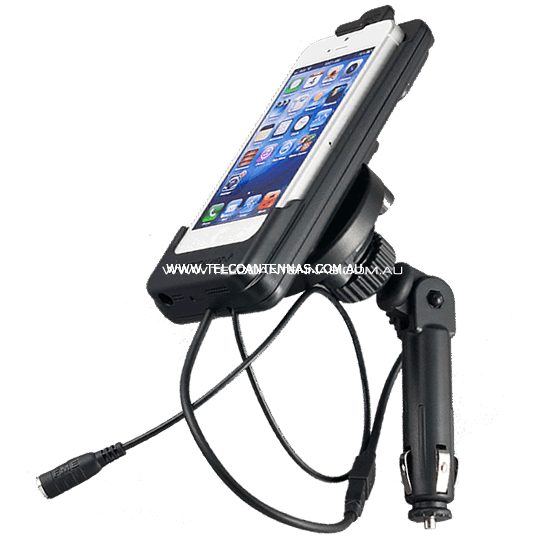 This superbly engineered cradle from SmoothTalker® features a robust full size phone holder with an adjustable cigarette lighter mount, integrated iPhone charging facility and an high performance induction antenna coupler. The cigarette lighter mount is adjustable in three planes and includes an additional extension arm to allow convenient location of the holder. This holder has an external antenna connector with an FME male end.
Why use an external antenna cradle?
Next time you're out-and-about look around you - every day thousands of Australians use external antennas to enjoy uninterrupted voice calls, fast 3G internet, and eliminate blackspots. If you're in a rural, hilly, low signal area, or you can't get a good signal indoors or in the car there's no need to tear your hair out over important phone calls dropping out half way - an external antenna is often all you need. This high performance cradle is designed specifically for the phone, and it's quick installation makes for a fast way to improve mobile service.
What does a phone cradle do?
A cradle's job is to connect to an external antenna via the antenna's cable, and retransmit this signal the best it can to your mobile phone. As a cradle doesn't amplify or boost signal artificially, so how well it performs depends on the level of signal that it can receive from the antenna - so it's important to ensure you're using a good quality antenna. "the iPhone 5 cradle is working reasonably well. I got two or three bars at Hope Is. Without the cradle and aerial you get nothing."
(BTHAL5PA)
| | |
| --- | --- |
| SKU | BTHAL5PA |
| Shipping Weight | 0.3400kg |
| Shipping Width | 0.130m |
| Shipping Height | 0.190m |
| Shipping Length | 0.050m |