Vodafone Cel-Fi Pro - Smart Repeater for 3G & 4G
Key Features
Minimise dead zones and reduce dropped calls

Simple 3 step installation - no cabling or configuring required

Supports 3G 900/2100MHz, 4G 1800/2600MHz

Locked to the Vodafone network

External antenna port (SMA Female).
Usage
The Mobile Smart Repeater for Vodafone is a convenient solution to poor indoor 3G/4G phone coverage

Installing this device in your home can improve the reliability of phone calls, text messages, and increase 4G mobile broadband signal

For areas with poor outdoor coverage this model has an external antenna connector to allow the connection of a larger antenna

Once set up, the unit will rebroadcast signal throughout the building allowing nearby mobile phones to automatically receive stronger signal - no pairing, no fiddling about.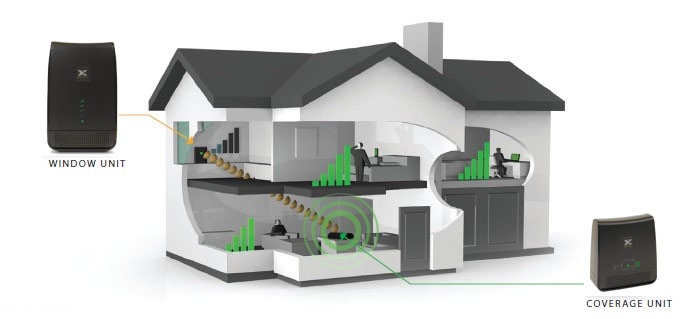 A heads up - don't get caught buying an unlicensed repeater in Australia
It's buyer beware when it comes to purchasing a repeater

In Australia, repeaters must be licensed to operate by a carrier - if unlicensed, the repeater is illegal to use and attracts harsh penalities, including substantial fines and possible jail time

Many mobile service providers do not support the use of personal repeaters on their network, due to incorrect set-up and the interference they can cause when connected to the network.
Maximum coverage and network friendly
The Cel-Fi system is the only personal repeater that is widely approved by carriers in Australia

The smart repeater system is very different to a standard repeater. It's designed to provide maximum coverage, be network friendly, and can be easily installed by the end user.
How does it work?
The Cel-Fi system:
continuously monitors power levels of the cell tower it is connected to, constantly adjusting its output power to suit

amplifies and disburses a particular carrier's mobile signal, operating within a set frequency band - this means the service provider can shut down the repeater remotely if needed by using a signal from the base station

does not interfere with the carrier's network or other users on the network

has a unique installation process to eliminate feedback into the mobile network.
Vodafone Requirements - Mobile Smart Repeater
This is an actively boosted radio transmitter and is subject to regulatory requirements

Each unit is registered and locked to a particular country, network, and operation frequency.
Read More
(CELFI-PRO-VODA)
| | |
| --- | --- |
| SKU | CELFI-PRO-VODA |
| Shipping Weight | 0.0450kg |
| Shipping Width | 0.300m |
| Shipping Height | 0.200m |
| Shipping Length | 0.400m |
| Shipping Cubic | 0.024000000m3 |