Modem Troubleshooting Guide
Author: Network Engineer


Symptom
If something is wrong with the SIM settings, you would see something like this on the Mobile Status page. Notice that the modem is Registered, but the data connection state is Disconnected. This proves that the modem is working correctly, beacuse it was able to successfully register with the tower. The real issue is that access to the data network is denied, likely due to a SIM card that is not provisioned, or a configuration error, such as the wrong APN, username/password, wrong PIN, PIN lock, or other issue, such as the mobile network only allowing certain IMEI's to connect (see: Optus Fixed Wireless).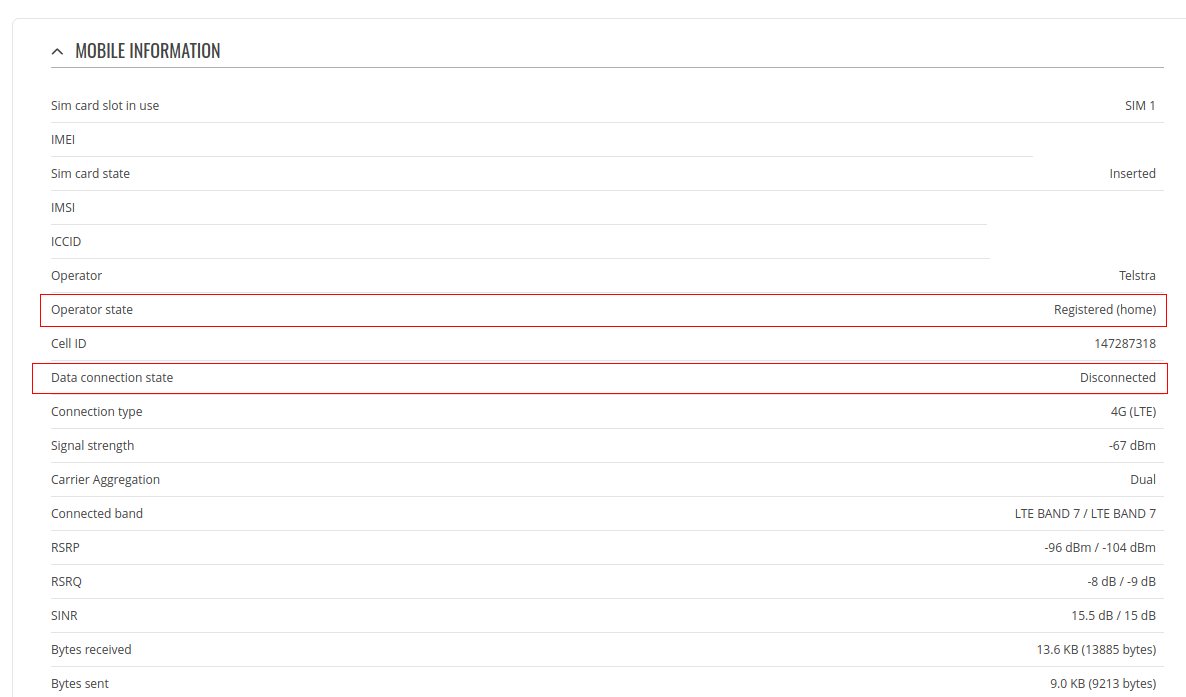 Top Tips
Try with a blank APN - this will usually work on 4G, but probably will not work when connecting to a 3G service. Useful for ascertaining whether an incorrect APN could be preventing you from connecting.
Determine whether a username/password are needed, and if so, that they are entered correctly.
Determine whether the SIM is locked, requiring a PIN to use it - contact the operator issuing the SIM (e.g. Telstra). A SIM working in one device but not another is a that indicates that a PIN may be required.
Troubleshooting
Do I have the correct APN entered?
In many modem products the firmware can usually connect without any extra setup but this is not a guarantee. Be aware that having an APN entered will cause the device to attempt to connect to the specified APN regardless of whether the SIM is authorised to connect to it or not. You must determine the correct APN by contacting your carrier (e.g. Telstra, Optus, Vodafone). While we offer a list of common APN's, the options are so vast that our list cannot be comprehensive.
What is an APN?
An Access Point Name is a designator for a mobile operator's network. It is what your device uses to connect to the right sub-network on the carrier so that it receives the appropriate class of service. What this means for you is optimal speeds, and access to all the services your subscription has access to. Typically, if you use the wrong APN your device will not work properly.
Is my SIM activated/provisioned?
If you're unsure whether your SIM is activated, you should contact your carrier for advice. Simply plugging the SIM into another device such as a phone only proves that the SIM is authorised to allow phones to connect to the "phone" APN that the phone is programmed to connect to and that the SIM account is not deactivated. For the connection to work, you must ensure that you are using the correct APN and other settings on your mobile broadband device.
Is my SIM 3G only or 4G only?
Using a 3G SIM in a 4G modem will result in a 4G modem that will only connect to 3G networks.
Always confirm with the carrier beforehand that your SIM is authorised to connect to the network you intend to use.
Is the modem running the latest firmware?
Most modem firmware contains a database of settings that help your device connect to the carrier networks. Updating to the latest firmware will ensure that your device is using the latest avaliable information for your locale. Please visit your device manufacturer's website to obtain the latest firmware release.
Is there a compatible mobile service in my area?
Some modems are optimised to connect to specific networks or are only compatible with certain frequency bands. For example, a modem may be unable to connect to LTE Band 28, but Band 28 is the only available service in your area. To find out what services are available in your area before investing in equipment, and for a list of parts that are guaranteed to work for you, consider obtaining a Desktop Site Survey from us.
Common APN Settings
These are some common APNs used but may not be the correct one for you. Please view the links provided to determine what APN you require, or contact your carrier for advice. Typically you will be after the APN designated for modems or mobile broadband devices.
Telstra (regular): telstra.internet

Telstra with Public IP Address: (Requires GPTEXB3 code to be provisioned to the SIM card - contact Telstra): telstra.extranet

Telstra (legacy): telstra.wap

Optus: connect

Optus Business: yesbusiness

Vodafone/TPG Mobile: live.vodafone.com

Amaysim: yesinternet

Aldi Mobile: mdata.net.au