New Caledonia Coverage Maps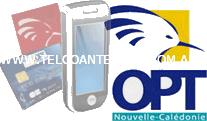 New Caledonia has one mobile phone and 3G broadband carrier - OPT Telecom. Their 2G voice and text (GSM & GPRS) network operates on the 900MHz band and has good coverage through out most of the island.
3G services are available in selected areas and run on the following bands: - 2100MHz in densely populated areas (Noumea, Grand Nouméa and the heart of town) - 900MHz in rural areas due to the wide coverage area per cell tower.