Netgear AirCard Ethernet and Antenna Charging Cradle (78XS) Patch Lead
Key Features
Connect your WiFi modem to an external antenna (FME Male).

Heavy duty short-barrel TS9 connector

15cm of RG316 cable

Helps boost signal strength and speed of your LTE Cat-6 300Mbps rated device

Netgear Charging Cradle (78XS) has two antenna ports - use Port-1 when connecting only one antenna

We recommend the use of dual antennas in 4G areas.
Why use an external antenna?
Next time you're out-and-about look around you - every day thousands of Australians use external antennas to enjoy fast, uninterrupted wireless broadband internet

If you're in a rural, hilly, low signal area, or you can't get a good signal indoors, there's no need to tear your hair out over slow mobile broadband crashing or dropping out half way, when an external antenna is often all you need.
What does a patch lead do?
Most antenna cables terminate with a standard connection, most commonly a female 'FME' connector

To plug an antenna into your phone or wireless modem, you need a short cable that acts as a conversion from the FME connector to the device-specific connector that will plug into the antenna port on your device.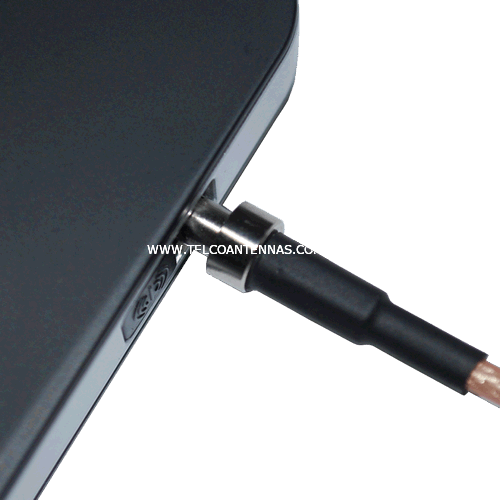 A heads up!
This modem's contacts are not recessed as they are with other models, so the TS9 Patch Lead does not sit flush against it

Although there is no audible 'click' when inserted, a good connection is still achieved and there is no need to apply additional force, doing so may damage the connectors.
Netgear AirCard Ethernet and Antenna Charging Cradle External Antenna
The Telstra 4G AC790S device uses MIMO technology, along with Carrier Aggregation

This technology uses two antennas to theoretically double your speed in selected areas, and CA to combine several frequencies together to permit even higher data rates

To check whether your area is MIMO enabled, or to learn more about the Telstra 4G network, use our Telstra coverage map

When outside the 4G network area the modem will only use one radio and require only one antenna to be connected - this antenna must be connected to Port-1 - you can find the port numbers written on the port covers.
Which connector type do I need?
We offer both the standard FME connector that you will find on 90% of antenna cables, and the less common SMA connector

The following images will help you identify which connector your antenna cable has, and consequently what patch lead you require.

If you don't have an antenna yet, you can find what connector your antenna will have at the bottom of its description.

Read More
(TS9-ACCC)
| | |
| --- | --- |
| SKU | TS9-ACCC |
| Shipping Weight | 0.0450kg |
| Shipping Width | 0.050m |
| Shipping Height | 0.050m |
| Shipping Length | 0.300m |
| Shipping Cubic | 0.000750000m3 |