Ubiquiti NanoStation M5 LOCO (5.8GHz) Point-to-Point Wireless
Key Features
Connect two remote locations on the one network

Share Internet connection between buildings, remote sites, etc.

Up to 200mW output power, 2x2 MIMO operation, 100Mbps

Integrated AirOS web software for controlling power, bridge/AP mode, etc.

Two units required for wireless bridge

Includes POE injector and 240V AC adaptor.
What is a NanoStation LOCO?
The Loco is a more cost effective version of the Ubiquiti NanoStation - it is a lower power unit designed for shorter distances

There are some features (such as Dual-Ethernet capabilities) that the LOCO version doesn't have, so if in doubt, please read through the specification sheet at the bottom of the page.
High Speed Point-to-Point Networking
Forget Ethernet cable, the Ubiquiti NanoStation LOCO is ideal for bridging networks or sharing broadband between buildings

To install, place the units at either end of the network and connect both to Ethernet cables - for example, connect the first unit into your modem at location one, and connect the second into an Ethernet switch or WiFi access point at the other location

Face both units so they point towards each other and the link is established. Simple!

This is a transparent data-link layer bridge, not a routed bridge - this means that you are creating a virtual ethernet cable between the two facilities, making network setup incredibly simple - no routing configuration, all protocols (DHCP, DNS, etc) just work

Management of the Ubiquiti device couldn't be easier with SSH and SNMP protocol support, as well as a very intuitive HTTP interface.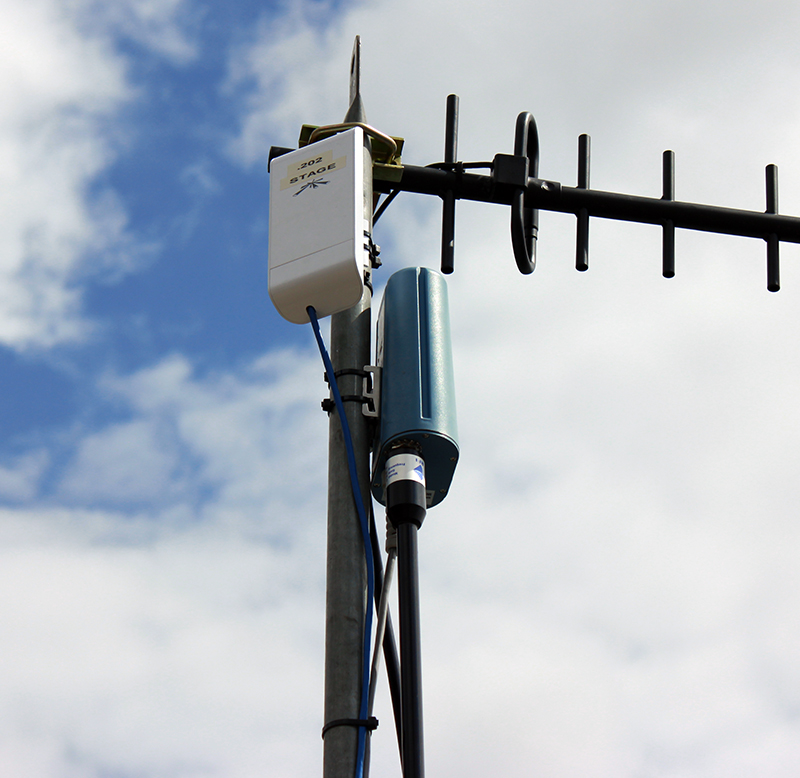 CD2409 attached to a NetComm NP730 outdoor Access Point providing WiFi coverage for "A Day on the Green" rock festival.
WiFi was bridged over 800m using Ubiquiti NanoStation point-to-point 5.8GHz bridges.
Ready to Install
This unit has its networking hardware integrated and is completely weatherproof for permanent installation, in even the toughest environments

Signal strength indicators allow for quick and easy alignment

For best performance, the unit should be roof mounted, high and clear of obstructions, via its integrated pole mounting bracket

The units are powered via Power over Ethernet (PoE) - simply plug one end of the Ethernet cable into the NanoStation, and the other into the PoE Injector (which is plugged into AC power)

This allows one cable to power the unit and also carry network traffic

We recommend using Cat6 Outdoor UV Shielded Cable with this unit.
A heads up!
Surge protection should be used for all outdoor installations

Ubiquiti recommend that you use two Ethernet Surge Protectors - model ETH-SP - place one near the NanoStation and the other at the entry point to the building

The ETH-SP will absorb power surges and safely discharge them into the ground.
Read More
Setup Guides (click on images)

(LOCOM5)
| | |
| --- | --- |
| SKU | LOCOM5 |
| Brand | Ubiquiti |
| Shipping Weight | 0.0450kg |
| Shipping Width | 0.200m |
| Shipping Height | 0.200m |
| Shipping Length | 0.200m |
| Shipping Cubic | 0.008000000m3 |