Announcing TelcOS Melaleuca 3.5 Advanced Mobile Signal Monitoring & Enhanced Performance


Announcing TelcOS Melaleuca 3.5: Advanced Mobile Signal Monitoring & Enhanced Performance
We are happy to announce the release of our latest firmware update: TelcOS Melaleuca 3.5. This release encapsulates months of hard work, dedication, and user feedback. We have introduced some remarkable features and upgrades to enhance your experience. Let's jump in and see what's new!
---
Real Time Mobile Signal Graphs
No more guesswork on your mobile signal's strength and stability. With the Melaleuca 3.5 release, we introduce our Real Time Mobile Signal Graphs. This feature offers:
Monitor in Real-Time: Chart the strength and consistency of your signal in real-time.

Full Visibility: Try different placements, configurations, antennas and towers to lock on to the best signal, maximising reliability & speed while minimising latency.

Comprehensive Support: Whether you're on 3G, 4G, or 5G, we've got you covered.

Data Export: Download your data as a CSV file with one click, facilitating detailed analysis on platforms such as Excel, Tableau, and many others. Your X1 or T1 just became the most user friendly mobile signal analyser in your toolbox!

Mobile Screen Support: Whether you're on a hot roof orienting the antenna with your phone, or in a noisy data centre band locking with your laptop, our graphs are clear and easy to read on screens of all sizes!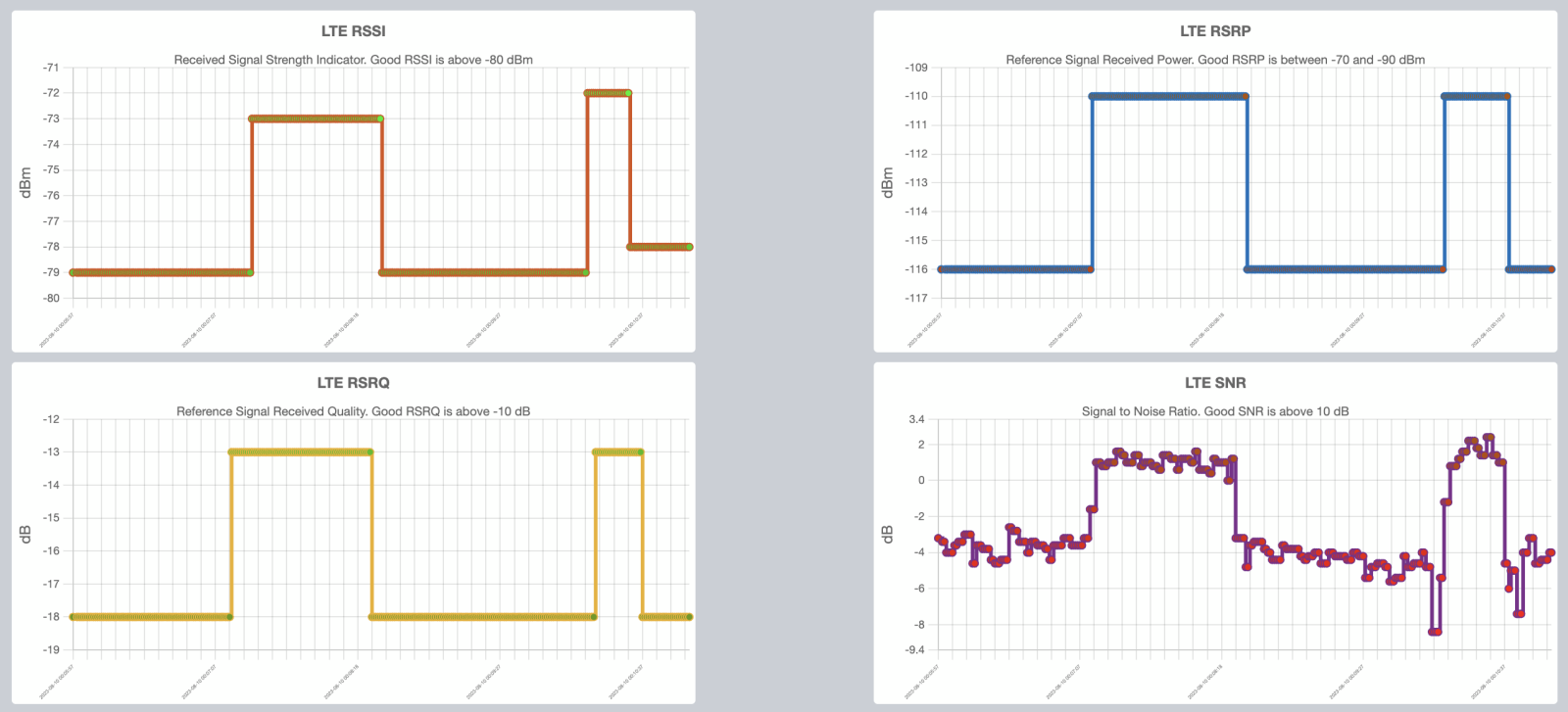 You can see the jump in signal caused removing a metal obstruction from the antenna (by opening/closing the garage door). We did it twice to demonstrate the effect. Actual screenshot of Mobile Signal Graphs in TelcOS Melaleuca 3.5.
---
Enhanced Network Features
To improve your networking experience and system reliability, we've made significant modifications:
IGMP Snooping: Enabled by default, this feature optimises multicast data traffic and ensures that switches intelligently forward the multicast traffic to appropriate interfaces.

Spanning Tree Protocol (STP): Enabled by default, STP will prevent network loops, ensuring a stable and resilient network topology.
---
Boosted Performance
We have always strived to bring performance enhancements to our devices. And this release is no exception:
CPU Base Clock Speed Boost: We have ramped up our game by boosting the base clock speed. As a result, you will experience up to a staggering 10x lower local latency over WiFi and switch.
---
Wrapping it Up
With TelcOS Melaleuca 3.5, we're pushing the boundaries of what's possible for our devices and systems. Our commitment to innovation, reliability, and user satisfaction remains unwavering.
So, what are you waiting for? Update to TelcOS Melaleuca 3.5 today and unlock enhanced connectivity, detailed monitoring, and robust performance!
Warm regards,
The Team at Telco Antennas