Your questions answered. #1 Legal vs Illegal Repeaters


Buying legal (and illegal) repeaters in Australia.
One of the most common questions we get asked, is: whether we sell a repeater that can be legally used on the Telstra, Optus or Vodafone networks.
Many people are alarmed to hear that they require a licence through a carrier to legally use a repeater, and that almost all (bar one), are unlicensed and therefore illegal to use in all states and territories in Australia!
In fact, there are huge fines (up to $300,000 and/or two years' jail time) for those who persist in using unlicensed repeaters.
This is how the conversation usually follows in response to this sobering news.
Customer (in shock): But hang on, I found this website that sells...
Telco Antennas: Of course you can buy an unlicensed repeater, but if you use it, you're committing an offence.
Dodgy suppliers, many of them online, will promise you anything to sell their products - they'll say their repeaters are legal and their products include hardware to protect against interference with the other phone networks (which is the issue).
Some have prices as low as $99, so it sounds like you're getting an unbelievable deal!
Problem is, when you get caught out, you'll be left holding the bill!
Here are some helpful links to clear things up for you - Guide to Repeaters or to the Australian Government ACMA video on Mobile Phone Repeaters: Information for consumers and fact sheet.
Customer: So what - does this mean they're breaking the law?
Telco Antennas: If they're instructing you to buy and use the unlicensed item - they are helping you to break the law.
Customer: So how on earth do they get away with it?
Telco Antennas: Like anything you buy - especially online - it's buyer beware. Dodgy suppliers prey on people who don't know what they don't know - so if I were you, I'd start doing my homework.
As an aside – check out the bottom of this post for the common warning signs that usually scream 'dodgy website'.
Customer: Ok what options do I have - I still need to boost my signal?
Telco Antennas: Thankfully, Telstra, Optus and Vodafone have approved the use of the Cel-Fi Smart Repeater on their networks. It's the only licensed repeater in Australia because it operates differently to its unlicensed counterparts.
So to sum up – here's a quick QandA on the Cel-Fi Smart Repeater.
Q: Why are Cel-Fi repeaters legal, while others are not?
A: Because the Cel-Fi complements an existing mobile network without interfering with its operation.
It monitors base station levels in real time, only repeating the signal of a specific carrier and does not interfere with the other networks. This means it will not block other people from using their networks. This is particularly important in an emergency situation.

Q: How does it work?
A: It's made up of two units that can be installed in less than five minutes – 10, if you have a drink in your hand.
(1) The Window Unit
This is the primary receiver and transmitter - it simply receives and transmits at the power of a normal mobile phone, no amplification whatsoever.
This means those of us in low signal areas will still need to connect it to an external antenna via the small gold SMA Female connector.
It then communicates this signal wirelessly to the second 'coverage' unit.
(2) The Coverage Unit
When placed deep within the house or office where the signal is weakest, this unit will receive the mobile phone signal (over the 5GHz band) from the window unit and rebroadcast it at full strength throughout the house.
This special two-hop system allows mobile phones to pick up and transmit the signal at full strength, without the system actually broadcasting any louder to the outside world - i.e. without jamming your neighbours' signal or overloading the cell tower.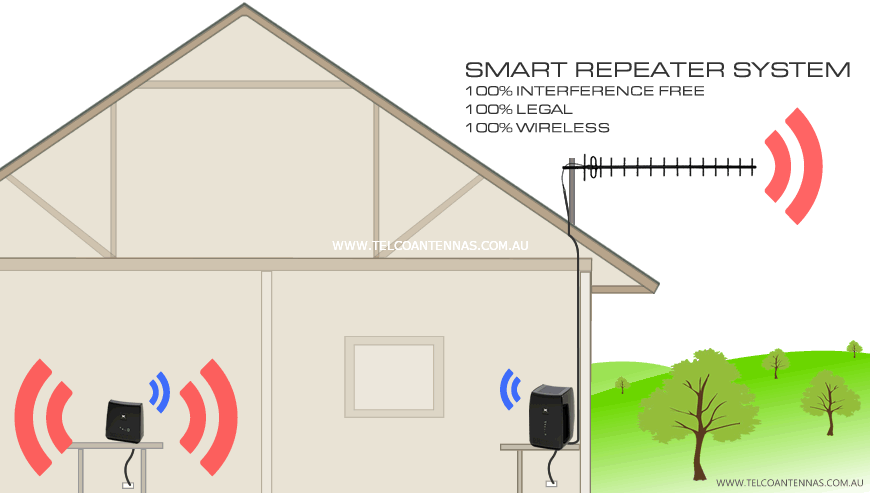 If you're in the market for a repeater or a repeater kit, you can view our range for Telstra, Optus and Vodafone here or use these quick links:
Q: Can I get one for my caravan or boat?
A: You're in luck – the Cel-Fi Go is designed for vehicles – cars, caravans, boats, trucks – anything that moves and it's approved by all Australian carriers. Check them out here.
Your questions answered
So there you have it, however, if you have questions that I've not covered in this post, you can send them to me via the section below. I moderate comments to ensure this section is free from ads and other bots that might invade our conversation.
PS – Comments and questions that are respectful will be answered – all others will be disintegrated with my ray-gun.
Over to you!
Dodgy websites - know the warning signs!
Many suspect websites are enterprise based overseas, with no Australian presence or representation, this is despite appearing to have an Australian address and phone number.
Look out for the following signs:
(1) Check to see if the website's domain ends in .com.au - to apply for a website ending in .com.au, the applicant must be a registered Australian business, holding an ABN.
(2) Check the connection is encrypted - during checkout any business that respects the confidentiality and security of their customers' sensitive details (most importantly their credit card details) will go through the process of having an identity certificate issued by a respected Certificate Authority. In fact, this is a mandatory requirement by VISA/Mastercard.
Here's a screen shot of our cart as an example.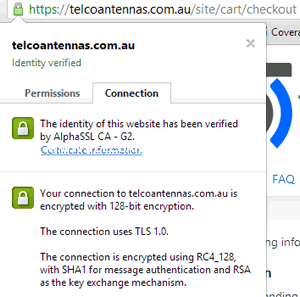 (3) Check to see if the address listed on the site is actually a physical address and not just a general photo of a street. A quick Google Street View of the address listed will usually reveal this or reveal a "virtual mailbox" - similar to a PO Box, but with the appearance of a street address.
(4) Finally check their phone number is not spoofed. For instance, a VoIP call forwarding service like mvoice to obtain a spoofed Australian phone number.
Disclaimer
This blog post should be used as a guide only and not relied on as legal advice under any circumstances. The intention is to provide the reader with an introduction to the subject matter.