RFI 14dBi YB815 Telstra Yagi Directional Antenna
Key Features
Fully welded construction for maximum performance and reliability

Narrow beamwidth & high front to back ratios effective in reducing interference

Can be configured in stacks or bays for higher gain applications

Short low loss cable tail with N-female connector

Australian manufactured and warrantied.
Usage
We find 14dBi Yagi antennas are by far the most popular 3G antenna for a wide range of areas, from semi-rural housing estates through to regional farms on the very fringe of mobile coverage

In fact, around 80% of residential households we assess, fit the criteria for a 14dBi Yagi

This is because the 14dBi antenna is better suited to hilly environments than larger antennas - the wider receiving angle allows the antenna to capture more signal scattered and diffracted by hills and trees

This is a very high quality antenna designed for applications requiring high performance, low passive inter-modulation, and very low VSWR

This is the best performing 14dBi Yagi antenna in its class, recommended for a diverse range of applications from residential all the way through to industrial mining environments

The YB815 Series are high gain Low PIM Yagi antennas which provide excellent point to point communications in RF control, short or long haul link, point to multipoint and other applications calling for highly directional antennas

YB815 Series antennas exhibit narrow beamwidths and high front to back ratios to help minimise any potential interference to and from other system

The feed element of each antenna is of full folded dipole construction, welded to the mounting boom for maximum bandwidth, low intermodulation performance and reliability

The passive elements are through mounted to the circular boom section and welded at each side before plating

The alodine protective finish provides a conductive surface to ensure effective earthing of the antenna when mounting.
Specifications / Frequency
| Network Compatibility | Yes/No | Gain |
| --- | --- | --- |
| Telstra Next-G™ (850MHz) | | 14dBi |
| All other networks | | - |
Electrical Specifications
Frequency Range: 806-896MHz

Input Impedance: 50Ω

VSWR: <1.5:1

Vertical Beamwidth: 30 degrees

Horisontal Beamwidth: 30 degrees

Front to Back Ratio: >20dB

Passive IM 3rd Order (2x20W) dBc: <-150

Radiation: Directional

Maximum Power: 100Watts
Mechanical/Environmental
Construction: Fully welded aluminium, alodined finish

Cable: Short 9302 Durathene tail

Connector: N Female

Mount: None Supplied - Recommend RFI UNV Clamp

Wind rating: 189km/hr

Weight: 1kg Dimensions: 1600mm (L)
Connection
This antenna has an N Female connector for attaching your required length of cable. Please refer to the Coaxial Cables, Reels and Assessories section above.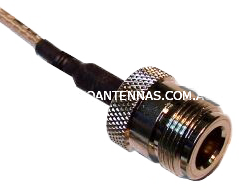 N Female Connector [pictured]
Important
Special Delivery Information: This product is 1.5m long and can only be delivered by a courier (not Australia Post), therefore we cannot accept a PO Box. Please provide an address where someone will be present to sign for the package.
Read More
Customer Feedback
"Just to provide some feedback. I decided to try the mobile phone reception as a first step. I bought and self-installed the equipment you recommended as a result of your detailed desk-top survey of our area. (Telstra smart antenna, 14dbi yagi aerial) We now have full phone reception in the home all the time (4 to 5 bars). 3G is at a level where typical browsing and social media etc can be done without significant interruptions. Even youtube videos etc can be viewed without too much trouble. I've got no doubt that if I'd had the equipment installed by someone who could measure the signal strength that we'd have even better results, because I simply rotated the yagi aerial till I got what seemed like reliable reception. The aerial was mounted on a 7 metre pole, fastened to the side wall of the shed. The improvement has amazed me. We previously had to walk around outside till we found 1 bar and then if we managed to get a call through it would almost certainly drop out before the conversation was over. 3G occasionally showed as available, but it was so slow and unreliable that it was of no practical use. Thank you very much for the practical and accurate guidance you gave me, the $89 I spent on the report was the best $89 I've spent! Very happy customer."
Email Feedback - 27/04/2016
"Just a note to thank you very much for your time and trouble in getting us up and running. Your after sales support was most helpful, and was the key to our getting our whole computer problem solved. We have a satellite connection which we inherited from our predecessors, and which was almost completely useless. For example, we would be embarrassed time and again because guests would have to wait for ages whilst we processed their credit cards, etc. We therefore decided to take a punt and get a Telstra connection in the desperate hope that it would assist us in solving the problem. Once we actually got the device from Telstra and could see it was getting a signal, but not a signal which was strong enough to enable the computers to send emails or load a web page, I then decided to search on Google for an antenna – and was fortunate to hit upon your concern. Now, thanks to you, our business is greatly enhanced. We are able to cover much more ground during the course of a day, simply because the computers are now performing properly and we are no longer being held up for painful and embarrassing minutes on end. Again, thanks very much for your patience in replying to my endless emails. Your help is most appreciated, and has certainly resulted in a great benefit to our business."
Email Feedback - 30/11/2013
"With the antenna mounted on a 6M mast and after locating all towers in the area, I now have a far more reliable connection than previously seen. Because of the dense vegetation close in, I knew I would be hard pressed to get solid performance 100% of the time, but the reliability has been astonishing. I am able to reliably use video on apps such as Skype, complete file transfers and do many things that simply would not work before. Even thinking of using a VoIP phone out here."
Email Feedback - 14/03/2014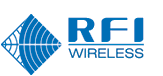 (YB815-81)
| | |
| --- | --- |
| SKU | YB815-81 |
| Shipping Weight | 0.0450kg |
| Shipping Width | 0.200m |
| Shipping Height | 0.060m |
| Shipping Length | 1.500m |
| Shipping Cubic | 0.018000000m3 |
You may also like
Others Also Bought
More From This Category